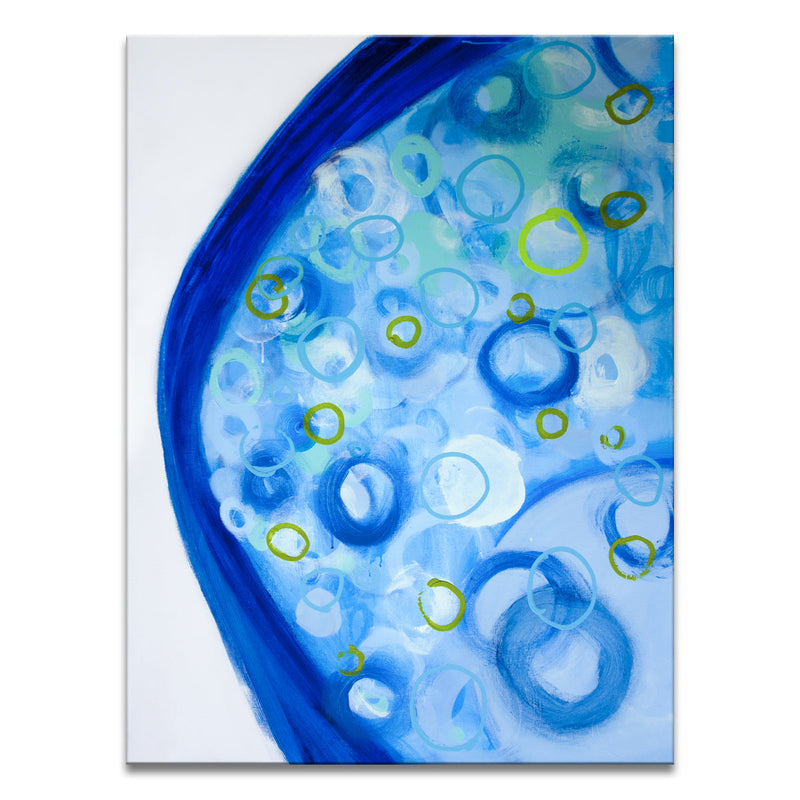 'Caught Up in the Rhythm' Wrapped Canvas Original Painting features a whimsical abstract aesthetic in vivid hues of blue, green, and white. Inspired by her travels and belief of speaking through color, Samerra's abstract work is a kaleidoscope of imagination with shifting tones and shapes. Ranging from bright, airy, and playful to deep, energetic, and introspective, her collection is both extraordinarily diverse and captivating.
Creator                                                                                                                     Creation Year
Samerra                                                                                                                    2018
Dimensions                                                                                                               Medium
Height: 48 in. (121.92 cm)                                                                                      Acrylic, Canvas
Width: 36 in. (91.44 cm)
Movement & Style                                                                                                  Period
Abstract                                                                                                                   21st Century
About the Artist
Like a magical unicorn, international abstract artist Samerra speaks the language of color, translating ethereal thoughts and feelings into tangible works of art. Her emotive paintings play on all the senses and evoke a dreamlike state of consciousness, likened to peering into the mystery of the cosmos. In order to create her unique signature style, she sways from the conventional, employing tools like plungers and balloons when a brush just won't do the trick. Her process is intuitive, an animated adventure to blissful realms. Samerra's spirit sparkles in her pseudo psychedelic creations. Her work is pure meditation, an effervescent state of being. Samerra's creative curiosity and enthusiastic energy have her continually glob-trotting with her partner in crime, Brian, to faraway lands from which she draws eternal inspiration.