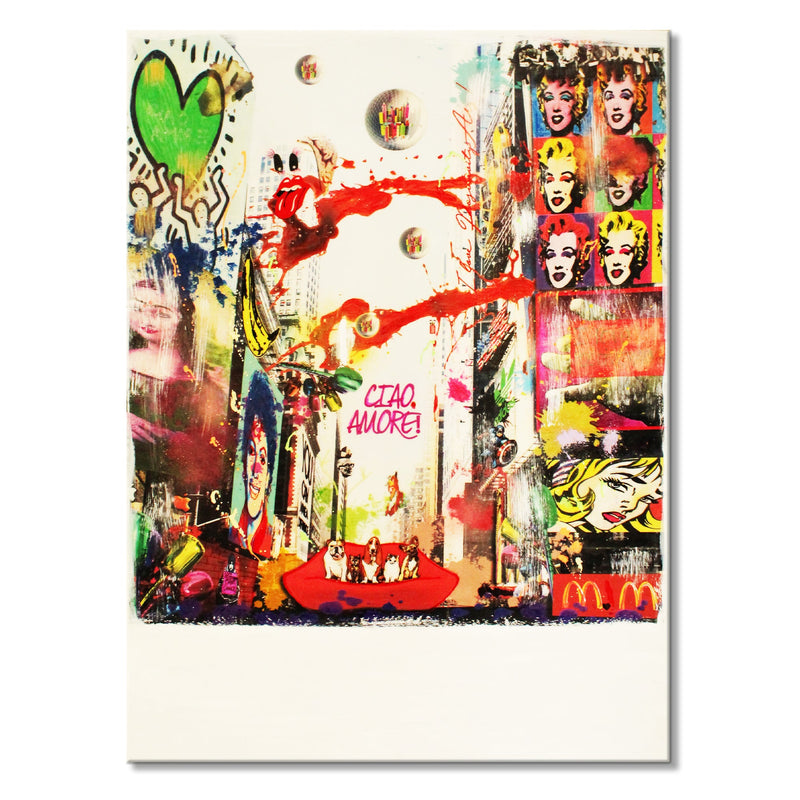 'The Dogs' Mixed Media Pop Art features multicolored famous clips that represent a virtual city focused on a sofa of Salvator Dalì with five dogs on it. Introspective and playful Italian artist, Arianna Tascione aka Positivity Ary, utilizes an assortment of materials, mediums, and techniques to bring her pop and contemporary compositions to life. Saturated in vibrant color and unique texture, her artwork exudes profound creativity and charisma. Ranging from amusing word art, fashion, and iconic figures, her collection is wildly interpretive with an energetic, modish flair.
Creator                                                                                                                     Creation Year
Arianna Tascione                                                                                                     2018
Dimensions                                                                                                               Medium
Height: 48 in. (121.92 cm)                                                                                       Mixed Media, Wood, Resin
Width: 36 in. (91.44 cm)   
Movement & Style                                                                                                   Period
Pop Art                                                                                                                     21st Century
About the Artist
Arianna Tascione, aka Positivity Ary, is a young outstanding Italian artist whose creative and charismatic mind thrives on pop and contemporary style. She discovered her talent in visual art during her college years. After receiving her Master's Degree in architecture in Italy, she moved to the U.S. to pursue her dream of sharing her art on a broader scale. Since Positivity Ary started working on her first collection, she has achieved several honors. Her latest accolade was becoming a finalist at the 2019 International Art Prize Stencil in Australia with her piece, 'I Hate People.' Continuously evolving and transforming, her work is innovative for her special technique and use of media. Her process and message make Positivity Ary a unique artist. She transitioned from the digital art of her earlier collection 'Virtual City,' to one of her latest assortments 'Love is Love,' where she masterfully integrated dried flowers and layered resin. Her body of work is divided into varying collections, but they don't necessarily have a common thread. However, her art does express a shared concept of beauty, love, and the power of color through different mixed-media. When she creates art, she feels a transformation. In her words, "...I understand that life is an evolution as art. The art helps me to be better. Work after work. Art helps me to rediscover myself. In my art, I see myself, almost like staring into a mirror."