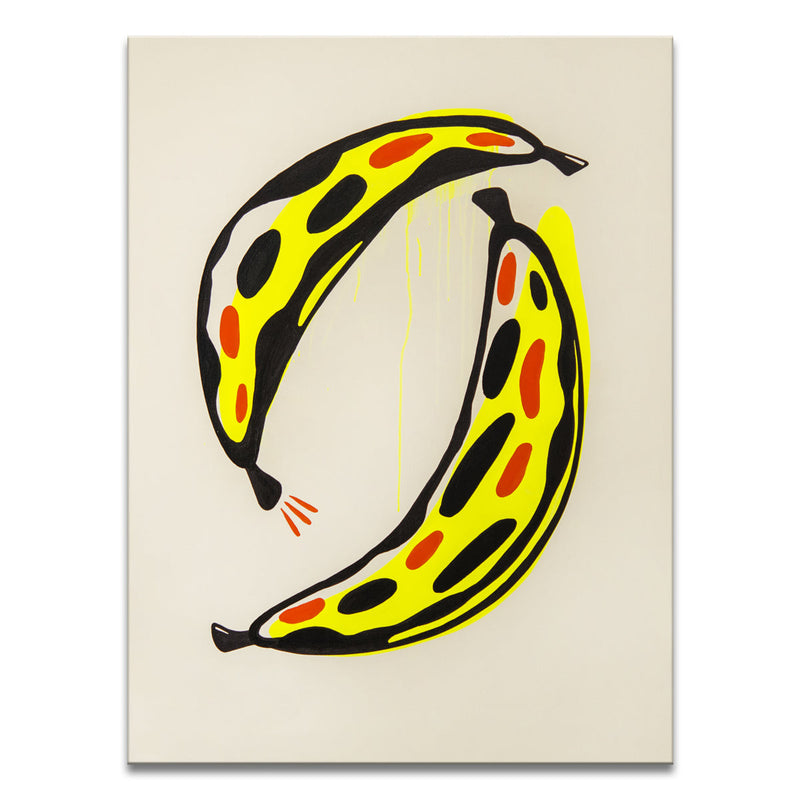 'I'm Cambures for You' Wrapped Canvas Original Painting features abstract bananas in tones of yellow, beige, red, and black. Exuding empowerment, Alejandra Linares's artwork is a collective of rich color and strong abstract feminine silhouettes. Multidimensional and extremely bold, her technique manifests a beautiful symphony of arching lines and introspective imagery.
Creator                                                                                                                     Creation Year
Alejandra Linares                                                                                                      2019
Dimensions                                                                                                               Medium
Height: 48 in. (121.92 cm)                                                                                       Acrylic, Canvas
Width: 36 in. (91.44 cm)
Movement & Style                                                                                                   Period
Contemporary                                                                                                          21st Century
About the Artist
Alejandra Linares is a multifaceted visual artist, flourishing in painting, illustration, and graphic design. With an innate affinity for energetic lines, shapes, and structures, she creates diverse subject matter that is highly emotive and thought-provoking. Her current work focuses on freedom and empowerment, represented through alluring abstractions of the female form. Her use of color is nothing short of bold, mixing vibrant tones with strong curving lines. Alejandra's tenacity is truly inspiring and her enthusiasm positively contagious. An internationally recognized artist, her work has appeared in numerous publications and has been exhibited in esteemed solo and group exhibitions throughout both North and South America.