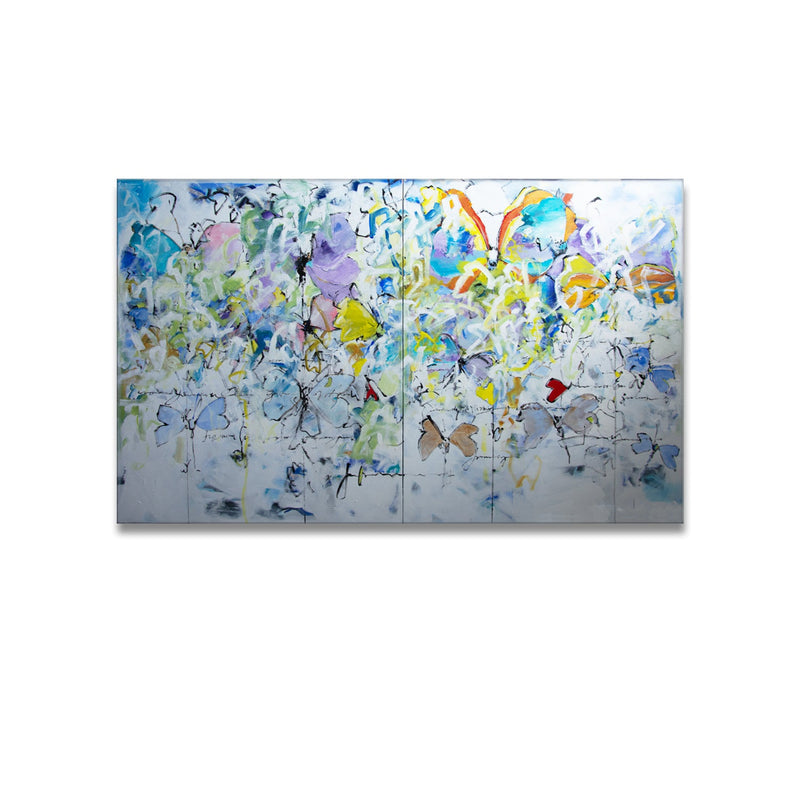 "Garden View" original artwork by renowned artist Salvatore Principe, is unmistakably bold and contemporary. The piece features butterflies with blue, yellow, orange, red, green while utilizing a combination of hard lines and soft blending, Salvatore's work represents a dichotomy between glamour and grunge.
Creator                                                                                                                     Creation Year
Salvatore Principe                                                                                                    2021
Dimensions                                                                                                               Medium
Height: 60 in. (152.4 cm)                                                                                        Acrylic, Canvas
Width: 96.25 in. (244.5 cm)
Movement & Style                                                                                                   Period
Abstract                                                                                                                    21st Century
About the Artist
Salvatore Principe was born in 1959 of Italian heritage and raised in Manhattan, where the brutal collides with the beautiful. Salvatore found himself inspired by juxtaposition and diversity, while influenced by the pop culture of the 70's. For the past twenty-five years as an artist, Salvatore's quest has not wavered: A steadfast dedication to enriching people's lives through his deeply abounding, expressive and affecting art. His work reflects a depth of emotion blind to racial division or language barrier. It is about the spirit of life, celebrated through human emotion. In kind, Salvatore is continuously donating pieces for charitable auction, raising in excess of $300,000 in the past five years alone. With his art always current and influencing what's chic and modern, Salvatore Principe's talent has graced the walls of numerous New York City cultural relevant institutions, including Saks Fifth Avenue, Bendel, Bergdorf Goodman and The Trump Towers. Salvatore's pieces have exhibited in galleries and art events around the globe: nationally from Manhattan's SoHo to Miami's South Beach, and overseas from Bulgaria to Japan.