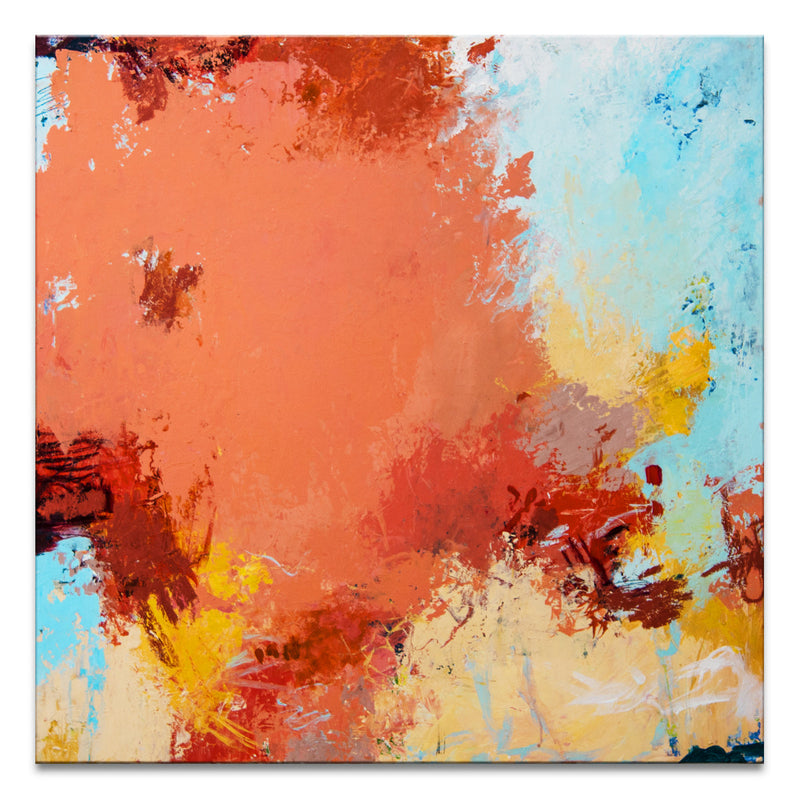 'April's Warmth' Wrapped Canvas Original Painting features a vibrant abstract aesthetic in tones of coral, orange, yellow, beige, red, taupe, and blue. Inspired by nature and Bible verse Samuel 1:11, Tammy Keller's positivity and light radiates through her artwork. Multifaceted and saturated in coastal opulence, her collection is an exquisite manifest of gracefully veiled layers of rich color, and her distinct technique and use of various tools.
Creator                                                                                                                     Creation Year
Tammy Keller                                                                                                            2019
Dimensions                                                                                                               Medium
Height: 36 in. (91.44 cm)                                                                                        Acrylic, Canvas
Width: 36 in. (91.44 cm)
Movement & Style                                                                                                   Period
Contemporary                                                                                                        21st Century
About the Artist
With a heart of gold, artist Tammy Keller, previously known as Tammy Staab translates ideas, thoughts, and feelings into emotive energy and palpable palettes. Her creative process has organic depth, consisting of multifaceted layer upon layer of mixed media. The canvas is a place where Tammy's true spirit runs free and her vivacious personality comes to life. Her deep blues serenade the soul, while her corals and yellows are a warm embrace. With a profound connection to nature, Tammy draws endless inspiration from the beauty surrounding her in her coastal home of Naples, Florida. The cool blue waters of the Gulf of Mexico and the warm hues of the sunset bring her peace and serenity in an otherwise fast-paced, hectic world. A proud and devoted mother, Tammy tends to spend her free time keeping up with her football family's latest antics and adventures.